Mendoza's Heroes: Bill Plummer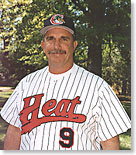 This is the first of a series of player profiles on batters that failed to hit .200 for their career. Guys I call, "Mendoza's Heroes." I plan to present the 25 greatest sub-.200 hitters in Major League baseball history. Bill Plummer is the first. Enjoy and let me know what you think.

D

uring his playing days, catcher Bill Plummer was best known as being a small cog in the powerful Big Red Machine. In his second career, Plummer skippered dugouts from the scraggliest of bushes right up to "The Show." The man has seen a lot of tobacco juice expectorated in his 30+ years in professional baseball. He qualifies for the Mendoza Hall of Fame with a career Major League batting average of .188 in 10 seasons.

An Oakland native, Bill Plummer comes from a lineage of accomplished ballplayers. His father (Bill Sr.) was a minor league pitcher in the '20s and uncle "Red" Baldwin caught in the minors from 1915-1931. Bill attended Shasta Junior College prior to being signed by the Chicago Cubs in 1965 at age 18. He played a couple of games for Chicago in 1968, then went to the Cincinnati Reds in a package deal that bought submariner Ted Abernathy to the Cubs. Plummer had a couple of short stints with Cincinnati in '70 and '71. At one juncture of his career, Plummer's Major League batting average was as low as .034.

After an impressive year of AAA ball in 1972, slugging 17 home runs for Indianapolis, Bill Plummer was with the Reds to stay. As the longtime understudy behind the plate to the great Johnny Bench, Plummer gave Bench's knees a rest for 20 to 40 games a season. Plummer's forte was defense; in particular, he was great and handling pitchers, called the right pitch dependent upon the situation and had a strong throwing arm that few baserunners cared to challenge. Though he didn't necessarily sow the seeds, Plummer's contributions earned him the fruits of being on three World Series teams and garnering two World Championship rings.

While Plummer hit above .200 in only three of his ten seasons, he had some power, as evidenced by slugging at least 5 extra-base hits and 1 home run every year from 1972 through 1978. Fair portions of his hits were game-winners. In 1973, Plummer's 3-run homer against the Braves on July 31 won the game for the Reds. Bill had 4 game-winning RBIs in the Reds first championship season of 1975, which is quite impressive considering he had all of 19 RBI for the year.

His best year in the Bigs was his 1976 campaign. That year, he actually had a higher batting average than Bench (.248 to .234) and had career highs in home runs, RBI and triples (his one that year was the only three-bagger of his career). Against St. Louis, on June 5, Bill Plummer was Johnny Bench, going one double short of hitting for the cycle and driving in an incredible 7 runs in a single game. The icing on the cake for Plummer was being a member of perhaps one of the greatest teams in baseball history, as the Reds swept the Phillies and Yankees en route to their second straight World Championship.

After the Reds and Bill Plummer parted company after the 1977 season, he played his final Big League year in a reserve role for the Seattle Mariners. Almost as soon as he hung up his mitt and mask, Plummer began his managerial career. Starting in 1979 with the Instructional League for the Seattle Mariners, Bill Plummer worked his way up the M's managerial hierarchy.

He ultimately reached the pinnacle as manager of the Seattle Mariners themselves in 1992; however, things didn't quite pan out for Bill that year. Beset by injuries and bad luck all season, his team didn't quite reach the managerial Mendoza Line, set at a .400 winning percentage; the '92 Mariners finished dead last with a 64-98 record. It didn't help Plummer much that Seattle's fellow AL expansion-mates, the Toronto Blue Jays, bagged their first World Championship.

Lou Pinella replaced Bill Plummer as the Mariners' manager, a position he still holds at the time of writing. As for Plummer, he moved on and was with the Colorado Rockies organization through 1994. From there, he spent two seasons as manager for the AA Jacksonville Suns of the Detroit Tigers organization. He led the Suns to a first-half title in 1996. Also with the Suns, Plummer may have done more for women's sports than Gloria Steinem and Betty Freidan put together. By allowing Pamela Davis to pitch a scoreless fifth inning against the Australian Olympic team, a game won by Jacksonville 7-2, she became the first woman to win a ballgame for a true minor league affiliate of a Major League team.

''She should be real happy with herself,'' said Bill Plummer. ''It was nice to see her get the win. She probably wanted to go more, but everything worked out really well.''

Recent managerial stints for Bill Plummer include the Billings Mustangs of the Rookie-Advanced level Pioneer League in 1997; since 1998, he has skippered the Western League's Chico Heat. Though years and tiers separate his days with the Reds, Bill Plummer returned to the winner's circle as he led his team to the 1998 Western Baseball League Championship. While residing in Chico, Plummer earned his Bachelor of Arts Degree from Chico State University, thus completing an endeavor that was put on hold when he began his playing career way back in 1965.

Bill Plummer truly personifies the term, a "baseball man." The man accumulated a lot of bench time -- as a result of Bench. I surmise that Bill learned a lot about the game watching the likes of Bench, Pete Rose, Tony Perez and Joe Morgan for years. His ability to pass these observations to his charges, from kids fresh out of high school to greats like Ken Griffey Jr., may be Bill Plummer's lasting legacy to the game of baseball.

Perhaps, if he played for lesser-caliber teams, Bill Plummer probably would not have been shortchanged the at-bats he needed to punch his average above .200. But would he be wearing those two big rings?

Full Name: William Francis Plummer
Bats: Right Throws: Right
Height: 6'1"
Weight: 200 lbs.
Born: Mar 21, 1947 in Oakland, CA
Major League Debut: Apr 19, 1968


CAREER BATTING
YR

CLUB

G

AB

R

H

2B

3B

HR

RBI

SB

BB

S0

AVG

SLG

1968
1970
1971
1972
1973
1974
1975
1976
1977
1978

Chi(N)
Cin
Cin
Cin
Cin
Cin
Cin
Cin
Cin
Sea

2
4
10
38
50
50
65
56
51
41

2
8
19
102
119
120
159
153
117
93

0
0
0
8
8
7
17
16
10
6

0
1
0
19
18
27
29
38
16
20

0
0
0
4
3
7
7
6
5
5

0
0
0
0
0
0
0
1
0
0

0
0
0
2
2
2
1
4
1
2

0
0
0
9
11
10
19
19
7
7

0
0
0
0
1
1
1
0
1
0

0
0
0
4
18
6
24
14
17
12

1
2
4
20
26
21
28
36
34
19

.000
.125
.000
.186
.151
.225
.182
.248
.137
.215

.000
.125
.000
.284
.227
.333
.245
.379
.205
.333

Mg. Lg. Totals

367

892

72

168

37

1

14

82

4

95

191

.188

.279
Bill Plummer Links:

John Vukovich: Former teammate of Bill Plummer and another member of Mendoza's Heroes
---
Got any good Bill Plummer stories?
I hope you found this web page of interest. Please post your comments or any additional anecdotes, facts or other info with respect to Bill Plummer. I will post other "Mendoza's Heroes" in the very near future.
e-mail "The Author" at: