</P>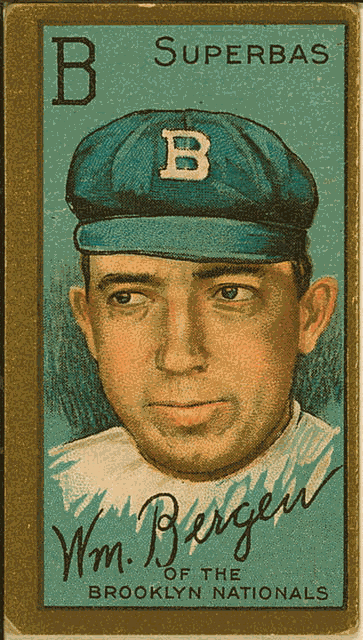 THE BILL BERGEN SHRINE
A Tribute to Baseball's All-Time Player with the Lowest Career Batting Average!
BEST
of POD
.170! Bow to the King! Bill Bergen's 11-year (from 1901 to 1911) career batting average is the all-time lowest for any player who was a legitimate regular. Even while granting him some slack for playing in the deadball era, his batting statistics are quite astounding for all the wrong reasons. Some of his more ignominious career batting feats includes the following:
Two lifetime HR in 3,028 AB (0.00066 HR Pct.). Only current San Francisco Giants announcer, Duane Kuiper, had fewer home runs (1) in over 3,000 At-bats;
To find the second lowest career batting average (2,500 or more at bats), you have to look for ancient infielder Davey Force (played from 1876-1886), whose .211 BA is still 41 points above Bergenís;
Only one season above the M-Line. In fact he never even cracked above .190 in any other season;
In five of his last six Big League seasons, not only were Bergenís batting averages well below .200, he also achieved the very rare Mendoza Line Trifecta: batting average, on-base average and slugging average all below .200. He just missed a career Mendoza Line Trifecta, finishing with a .201 lifetime slugging average!
You have to look deep, but Bergen did have a few positive notes offensively. He had a surprisingly high number of triples, 21 in all and as many as 4 in his rookie year. Bill also had a bit of speed, as evidenced by his 23 lifetime stolen bases.
As you have seen a pattern, based on previous all-time Mendoza's Heroes, Bill Bergen earned his keep with the catcher's mitt. The statistics do not lie here -- not only was Bergen a competent defensive catcher, but he is right up with the best fielding backstops ever! His defensive specialties included a superb ability in getting under and making the catch on foul balls. Like Johnny Bench and Pudge Rodriguez, Bill also had a howitzer of an arm and could get the ball away quickly and accurately to second base while remaining flat-footed. Looking at his fielding quantitatively, Bill Bergen ranks in the top-twenty for baseball's career assists by a catcher. Apparently, he called a good game as well, catching two no-hitters despite usually being on teams with less-than-stellar pitching.
While best known as a Brooklyn (known back then as the Superbas, not the Dodgers) player, Bergenís first three years (1901-1903) were with the Cincinnati Reds. Relatively speaking, these were his best hitting years. During his 1901 rookie season, Bergen rapped out a personal-best .234 slugging average and hit his first of two career home runs. In his second season in the Majors, he drove in a career-high 36 RBI. The following year, he batted a tremendous -- by Bergen standards -- .227.
Sold to the Brooklyn prior to the Ď04 season, Bergen would play in the dark ages of the franchiseís history. During his 7-year tenure in Brooklyn, the team owned a wretched 471-765 record and finished no better than fifth place. A typical season at the plate for Bergen would see him anywhere from 80-100 games played, a batting average from the .130s to the .180s, around 15 RBI and, of course, no home runs.
In David Nemecís The Great American Baseball Team Book, the 1905 Brooklyn Superbas earned the dubious distinction of the worst National League team of the 1901-1919 era. They finished with an execrable 49-102 record, Brooklynís first cellar finish since 1875. The team pitchingís 3.76 ERA, while respectable in todayís hyper-run style of play, was the highest in the Majors that year Ė over one run above the mean ERA for all Major League teams. They couldnít hit either; not one player batted above .300 nor had at least 50 RBI. Finally, they had trouble on defense; their .936 fielding average was far and away the worst in the Majors. Even sure-handed Bergen let several slip away. As a back up to Lou "Old Dog" Ritter, Bill Bergen finished tied for second in errors by a NL catcher Ė a category led by none other than "Old Dog" himself.
Bergen apparently turned things around with his mitt just two years later. In 1907, he set the standard for defensive flawlessness behind the plate with a stellar .989 fielding percentage (7 errors in 614 chances). That topped Johnny Kling's .987 in 1907. He held the record until 1912.
In his busiest campaign, 112 games in 1909, he sunk to a .139 average -- just 48 hits in 346 at bats with only 3 extra-base hits (a .156 slugging average). Both his BA and SA that year are all-time lows for any player with over 300 at bats in a season. There's one more item of batting futility; if Joe DiMaggio owns "The Streak," then Bill Bergen has custody of "The Schnide." In research done by the SABR Baseball Records Committee to find what the batter with the longest consecutive hitless at bat streak. It was previously thought that Luis Aparicio and Tony Bernazard, tied at 44 at bats apiece, were your record co-holders. But through Joe Dittmar's extensive research of newspapers on microfilm going back nearly 90 years ago, he discovered that the known record actually belongs to Bill Bergen. The schnide started after Bergen singled in his first at bat against the Giants on June 29, 1909. After that, a hitting drought of 46 straight at bats followed. The mother of all batting slumps mercifully ended in the second game of a doubleheader against the Chicago Cubs on July 17, 1909. In the fourth inning, Bergen beat out an infield single to Johnny Evers of "Tinker, to Evers, to Chance" fame. At least, Bill hit career home run number two of two that year
Even in that most dreadful of year at the plate, Bill Bergen was platinum glove caliber behind the plate. He led NL catchers with 18 DPs and 202 assists, which is still the ninth highest season assist total ever. On August 23 of that year, Bill Bergen gunned down a record six would-be base-stealers in a game against the St. Louis Cardinals.
By 1911, the bat of Bill Bergen was little more than an impotent length of wood. He would sink to a career-low .132 with just 10 RBI in 227 at bats. Yet he still paced all National League catchers with a .981 fielding average. There was one game that year where it seemed nothing would go right for Bill. On June 10, Brooklyn was at Pittsburgh. The Pirates' Bobby Byrne stole around the horn in an unusual fashion. His loop began as part of a double steal with Fred Clarke on third. Clarke scored on a questionable call. Bill Bergen immediately got into a heated argument with plate umpire Bill Klem. Meanwhile, time had not been called and Byrne made it to third base uncontested. After Dots Miller walked, the double steal was executed again, with Byrne scoring. Later in the game, with the Pirates up 8-0 in the eighth and bases loaded, they attempted a triple steal scoring another run on a throwing error by Bergen.
Despite still being the top defensive catcher in the game at the time, the clock ran out for the 38-year old Bill Bergen. For the 1912 season, Brooklyn would insert Otto Miller in as their new catcher. Though Miller was not quite as polished behind the plate as Bergen, he was quite competent and as a career .245 hitter, far exceeded Bergen as a batter. Bill Bergen never played another Major League game after the 1911 season.
Extensive research conducted by Charles F. Faber supports Bill Bergen's case as an all-time great defensive catcher. In his Baseball Ratings, Faber employs an objective approach in determining a player's value through analysis of both fielding and batting statistics. Without delving deeply into Faber's methods of numeration, batters accrue points on defense based on positive attributes, such as putouts and assists, and are deducted points on errors. Since 1900, six NL catchers have amassed 70 points in a season under Faber's system; Bill Bergen is one of them. Per Faber, Bergen led NL catchers in fielding four consecutive years, 1908 through 1911. Let's look at these defensive numbers during that streak and compare them with a reputable catcher of more recent vintage, Gary Carter:
| | | | | | | | |
| --- | --- | --- | --- | --- | --- | --- | --- |
| YEAR | PLAYER | G | PO | A | E | PCT | POINTS |
| 1908 | Bill Bergen | 99 | 470 | 137 | 7 | .989 | 67 |
| 1909 | Bill Bergen | 112 | 436 | 202 | 18 | .973 | 80 |
| 1910 | Bill Bergen | 89 | 373 | 151 | 10 | .981 | 58 |
| 1911 | Bill Bergen | 84 | 346 | 121 | 9 | .981 | 54 |
| 1982 | Gary Carter | 153 | 954 | 104 | 10 | .991 | 36 |
From an all-time basis, Bill Bergen is up there with the best, said Charles Faber. Based on his research, here are the National League's five best fielding catchers ever (Note: Faber assessed players only through their ten best years):
| | | | | | | | |
| --- | --- | --- | --- | --- | --- | --- | --- |
| RANK | PLAYER | G | PO | A | E | PCT | POINTS |
| 1 | Gabby Hartnett | 1107 | 4674 | 723 | 54 | .990 | 965 |
| 2 | Pop Snyder | 1013 | 3635 | 1084 | 81 | .983 | 752 |
| 3 | Bill Bergen | 934 | 3705 | 1294 | 145 | .972 | 751 |
| 4 | Johnny Edwards | 1181 | 7707 | 617 | 67 | .992 | 731 |
| 5 | Roy Campanella | 1183 | 6521 | 515 | 85 | .988 | 685 |
Finally, Faber goes as far as to place Bill Bergen as one of the National League's 50 best catchers. He ranks 38th, ahead of quality catchers such as Andy Seminick, Earl Williams, Stan Lopata and Gene Tenace to name a few. And this was even after he actually lost points by virtue of his poor batting.
Total Baseball also acknowledges Bill Bergen's prowess behind the plate. Using their metric of Fielding Runs, here are your top ten catchers (as of 1999) and the number of Fielding Runs lifetime:
| | | |
| --- | --- | --- |
| RANKING | PLAYER | FIELDING RUNS |
| 1 | Pop Snyder | 151 |
| 2 | Jim Hegan | 149 |
| 3 | Lou Criger | 133 |
| 4 | Bill Killefer | 131 |
| 5 | Bill Bergen | 119 |
| 6 | Tony Pena | 113 |
| 7 | Chief Zimmer | 103 |
| T8 | Ossee Schreckengost | 98 |
| T8 | Jim Sundberg | 98 |
| 10 | Johnny Edwards | 97 |
The statistics scream that Bill Bergen truly was an excellent, if not outstanding, defensive catcher. He capitalizes on the emphasis placed on assists for catchers. Since Bergen had one of the better arms of any catcher of his day, he garnered a lot of assists in the days when teams attempted 50%-60% more steals than they do in the present "homercentric" game. He also played for teams with below-average pitching. This, in principle, gave him the opportunity to throw out more baserunners.
Marty Bergen, Billís older brother, also was a big league catcher. He was a starter for Boston from 1896 to 1899; twice, he won NL championships with them. While not as good defensively as Bill, Marty was a far superior batter; at .265, he hit nearly .100 points better than Bill. Sadly, Marty Bergen would be best-remembered for something else. Next to the mysterious demise of Hall of Famer Ed Delahanty, whom, while allegedly drunk, fell in and was swept over Niagara Falls, Marty Bergen was involved in one of baseball's most tragic and still unanswered incidents.
On January 19, 1900, Michael Bergen, Marty and Billís father, made a horrifying discovery. Within Marty Bergen's Worcester, MA farmhouse, he found Marty Bergen's wife and two children dead from multiple blows from an ax. Nearby, the bloodied weapon lay. In another room, Marty Bergen lay dead, nearly decapitated from a slash with a straight razor. The horrific incident was ruled a murder-suicide.
What chain of events caused Marty Bergen to snap into such a murderous rage? No one really knows for sure. Frank Selee, his manager in Boston, stated that Marty Bergen was prone to bouts of irrational behavior and hallucinations.
Some have contended that the reason Bill Bergen stuck around in the Majors as long as he did was mostly out of pity over what happened to his brother. That hypothesis doesn't hold water with me. Baseball is a business, not a charity. My counter-hypothesis is that Bill played 11 seasons for two losing organizations. While the Reds weren't too awful, once even breaking .500 during Bergen's tenure, those Brooklyn teams he played for were truly horrendous. The economics of the game, even back in 1900s, were not that much different than today. Players like Bill Bergen is what the market would bear in 1909 for meager-budget teams like the Brooklyn Superbas just the same as the nondescript lineup the Minnesota Twins present us 90 years later.
While every picture I have seen of Bill Bergen shows him with a beaming countenance, I always wonder a couple of things. First, how much ribbing did he get from the press, fans and teammates over his lack of hitting? I cringe to think what today's media would do to him and his batting woes. I'm sure he heard some abuse and I wonder if it just slid off him or if he took it to heart. With that, I then wonder how much emotional baggage he carried with him over his brother's tragedy. Did all these things smolder in his soul? I hope not too much.
A story regarding Bill Bergen occurred in a 1907 exchange with Giants rookie second baseman Larry Doyle. It rivals something conjured up by Abbot and Costello:
Bergen: "What's your name?"

Doyle: "Doyle, sir."

Bergen: "Doyle, eh. Do you like it in the Big Leagues?

Doyle: "Yes sir."

Bergen: "And what do you like to hit?"

Doyle: "A fastball."

Bergen: "On the outside?"

Doyle: "No sir. On the inside."

Bergen: "High?"

Doyle: "No sir. Not too high."
You can pretty much guess the rest of the story. Larry Doyle saw nothing but curveballs or high heat on the outside and went hitless in the game. He must have been much more tight-lipped about his hitting preferences after that, as Doyle went on to bat .290 over 14 years.
To conclude, Bill's defensive wizardry somewhat compensated for his severe offensive shortcomings. Had Bill Bergen possessed the batting ability of brother Marty over the course of his 11 years, you would have a man with similar numbers to Ray Schalk. Ray Schalk is a Hall-of-Famer! Unfortunately, there is no escaping the fact that Bill Bergen's claim to fame will always be the man who was baseball's worst-hitting player of all time. But in my Mendozan microcosm, to play as much and as long, while batting as low as he did, I salute Bill Bergen as the god-emperor of all banjo hitters.
Full Name: William Aloysius Bergen
Bats: Right Throws: Right
Height: 6'0"
Weight: 184 lbs.
Born: Jun 13, 1878 in N. Brookfield, MA
Major League Debut: May 6, 1901
Died: Dec 19, 1943 in Worcester, MA
CAREER BATTING
YR

CLUB

G

AB

R

H

2B

3B

HR

RBI

SB

BB

K

AVG

SLG

1901
1902
1903
1904
1905
1906
1907
1908
1909
1910
1911

CIN
CIN
CIN
BRO
BRO
BRO
BRO
BRO
BRO
BRO
BRO

87
89
58
96
79
103
51
99
112
89
84

308
322
207
329
247
353
138
302
346
249
227

15
19
21
17
12
9
2
8
16
11
8

55
58
47
60
47
56
22
53
48
40
30

6
8
4
4
3
3
3
8
1
2
3

4
3
2
2
2
3
0
2
1
1
1

1
0
0
0
0
0
0
0
1
0
0

17
36
19
12
22
19
14
15
15
14
10

2
2
2
3
4
2
1
1
4
0
2

8
14
7
9
7
7
1
5
10
6
14

N/A
N/A
N/A
N/A
N/A
N/A
N/A
N/A
N/A
39
42

.179
.180
.227
.182
.190
.159
.159
.175
.139
.161
.132

.234
.224
.266
.207
.219
.184
.181
.215
.156
.177
.154

Maj. Lg. Totals

947

3028

138

516

45

21

2

193

23

88

81+

.170

.201
Note: Strikeout statistics were unavailable for Bill Bergen until 1910
Other Links of Interest:

Mendoza's Heroes Web Site: Al Pepper's new book on Bergen and 49 other career below-.200 hitters.

Society for American Baseball Research (SABR)

John Vukovich: Another website by the author

Bill Plummer: Another website by the author

The Mendoza Line: Another website by the author

Encyclopedia of Baseball Catchers
---
Got any good Bill Bergen stories?
I hope you found this web page of interest. Please post your comments or any additional anecdotes, facts or other info with respect to Bill Bergen.

e-mail "The Author" at:

If you liked this piece, you'll love Mendoza's Heroes: Fifty Player's Below .200, Al Pepper's sensational new book. Published by Pocol Press.