by Sherri Waas Shunfenthal. Illustrations by Judybeth Greene. Pocol Press, 100 pages, $13.95.
Announcing the publication of Sacred Voices: Women of Genesis Speak! This book breathes life into the heroines of Biblical times. The Biblical women tell their own stories in lyrical poetry. Understand the thoughts, actions, feelings and motivations of these women. Presented in order of their appearance are Lilith, Eve, Mrs. Noah, Sarah, Hagar, Lot's Wife, Rebekah, Leah, Rachel, Bilhah and Zilpah, Dinah and Miriam of Exodus. Contains Explanation and Commentary, Bibliography, artist contact information, and illustrations. ISBN: 1-929763-07-7.
Book reviewed in Washington Jewish Week, June 2000.
Author interviewed for Fairfax Journal, April 2000.
SPECIAL ANNOUNCEMENTS: Illustrator Judybeth Greene will be displaying the original art for Sacred Voices at the Foundry Gallery in Dupont Circle, Washington, D.C. The show will take place from 11-30 July.
Links
A support community for Christian women - read/submit articles, inspirational stories, & poems. Get to know other Christian women in our discussion group, message boards, advice section and study group.
---
Simply Soy: Nature's Own Antidote
by Julia Elliott
Seven years ago, in order to mitigate the effects of menopause, Julia Elliott began using soy in her diet. This is her story. With her doctor charting her changes as she used soy instead of hormone replacement therapy, Elliott lessened her menopausal effects. Read about her medical odyssey. What exactly did soy do for her menopausal symptoms? Can soy help with heart disease and osteoporosis? This book, written in plain language, provides some interesting, informative, and surprising common sense solutions. Simply Soy: Nature's Own Antidote is also a sourcebook for health and hope. Inside is a variety of information:
* Description of menopause
* Recipes for soy and tofu
* The benefits and warnings about soy diets
* Women's health resource organizations
* Resources, books, and web sites about menopause and soy
* Herb alternatives to alleviate menopause symptoms
* Benefits of vitamins and minerals
Julia Elliott has come to be known as a "soy authority" on the internet. She has frequently appeared on radio and television, at workshops and lectures, and runs her own business called SoyCon, a consulting service made available for those who want the REAL story on soy.
"Julia Elliott is a pioneer in the area of bringing the benefits of soy to women in their quest for health solutions."
-Dr. George Zarillo, Chiropractor and Certified Clinical Nutritionist
---
The Short Story Anthology Project (SSAP)
The Short Story Anthology Project is a series of writings organized for book anthologies.
Unusual Circumstances, an anthology of short fiction from around the globe, is now available. "If you had one hour to do anything you wanted, what would you do?" Such is the premise from author Sue Fuerst in her story The Hour Glass. This arresting collection explores the vagaries of the human condition. Examined are age-old issues of love and hatred, fear, loneliness, revenge, unbridled happiness, delusions of grandeur, depression, sexuality, and hope. Featuring the talents of Brian Ames, Jack De Vries, Michael Largo, Paul Perry, H. H. Morris, Steven Riddle, and Jessica Slater. Pocol Press, twenty five authors, 150 pages, $13.95. ISBN: 1-929763-03-4.
(Click on large title for Calls for Submissions details.)
Writing Links
---
The Genealogy Anthology Project (GAP)
Now accepting submissions for a book, this popular anthology highlights family stories of loved ones -- ordinary people alive or long departed who have committed extraordinary acts. You've done the research. Now it's time to celebrate the lives of your loved ones or distant relatives. Take genealogy to the next level.
(Click on large title for Calls for Submissions details.)
Exactly who were these people? What are their stories?
Genealogy Links
The Mormons in Salt Lake City (Largest Genealogy Database in the World)
Cyndi's List (Webpage of Genealogy Webpages)
The Greatest Man I Never Knew (A Daughter's Discovery of her Father -- Killed in Vietnam)
Jim Respress Site (Created by his friends)
---
MISFITS! Baseball's Worst Ever Team
(click on title for more information)
by J. Thomas Hetrick, Pocol Press, 216 pages, 1999, $17.95. Nineteenth Century baseball was a violent, chaotic sport. The participants were ruffians who played for their very lives by day, and wenched, gambled, and drank themselves silly by night. The players were "owned" by despotic magnates, who treated them mostly like slaves, and used them as entertainment for the masses. Gritty. Historical. And real Americana.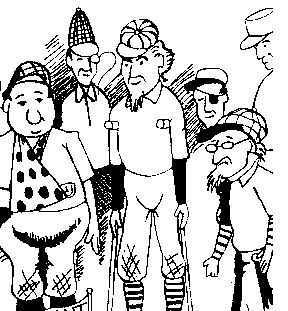 MISFITS! Baseball's Worst Ever Team is the tragicomic story of the hapless, hopeless 1899 Cleveland Spiders. Discover baseball's all-time single season futility leaders and winners of but 20 of 154 games that year. Meet some of the most colorful characters ever to wear major league uniforms. Follow their hysterical train-travel odyssey through the National League and straight into historical obscurity. So pathetic were these Spiders that on the season's final day, a cigar store clerk became their starting pitcher. Wondrous anecdotes abound. Book featured in 1999 Cleveland Indians Yearbook. Contains illustrations, appendices, sordid statistics, bibliography, and index. ISBN: 1-929763-00-X.
(Click on large title for more details.)
"The Marx Brothers in cleats."
-James Floto The Diamond Angle
Baseball Links
Books on 19th Century Baseball
Cleveland Indians (Official Website)
---
Chris Von der Ahe and the St. Louis Browns
(Click on title for interview with author)
by J. Thomas Hetrick, Scarecrow Press, 284 pages, 1999, $42.00. Biography of remarkable 19th century baseball owner and rapscallion. Largely forgotten today, Von der Ahe, a German immigrant, believed wholeheartedly that baseball was a game for the common man. He's also the man most responsible for the marriage between baseball and beer and the game being played on Sundays. These 19th century Browns are the ancestors of today's St. Louis Cardinals. The author is a long-standing member of the Society for American Baseball Research. Illustrations, statistics, appendices, bibliography, and index. ISBN: 0-81083473-1.
"One of the best-researched biographies that anyone will ever read in the sports genre."
-Phil Wood, WTEM Radio in Washington, DC.
Finalist for the Seymour Medal, awarded for the best book of baseball history for the year.
Baseball Links
Amazon.com (Bookseller)
The Baseball Bookshelf (Lists of Baseball Books by Category)
---
TO ORDER:
Specify title and send personal check, money order, or cashier's check. Add $2.00 shipping and handling per book. Priority Mail $4.00 per book. Foreign orders extra. Payable to: Pocol Press.
This page updated frequently. Please check back often. Maintained by J. Thomas Hetrick, Copyright 2000. All rights reserved.