MISFITS! Baseball's Worst Ever Team
(click on title for more information)
by J. Thomas Hetrick, Pocol Press, 216 pages, 1999, $17.95. Nineteenth Century baseball was a violent, chaotic sport. The participants were ruffians who played for their very lives by day, and wenched, gambled, and drank themselves silly by night. The players were "owned" by despotic magnates, who treated them mostly like slaves, and used them as entertainment for the masses. Gritty. Historical. And real Americana.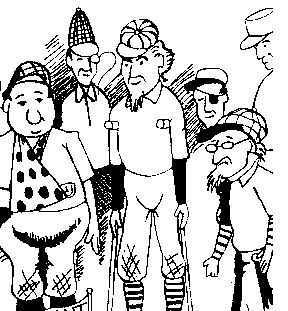 MISFITS! Baseball's Worst Ever Team is the tragicomic story of the hapless, hopeless 1899 Cleveland Spiders. Discover baseball's all-time single season futility leaders and winners of but 20 of 154 games that year. Meet some of the most colorful characters ever to wear major league uniforms. Follow their hysterical train-travel odyssey through the National League and straight into historical obscurity. So pathetic were these Spiders that on the season's final day, a cigar store clerk became their starting pitcher. Wondrous anecdotes abound. Book featured in 1999 Cleveland Indians Yearbook. Contains illustrations, appendices, sordid statistics, bibliography, and index. ISBN: 1-929763-00-X.
(Click on large title for more details.)
"The Marx Brothers in cleats."
-James Floto The Diamond Angle
Baseball Links
Books on 19th Century Baseball
Cleveland Indians (Official Website)
---