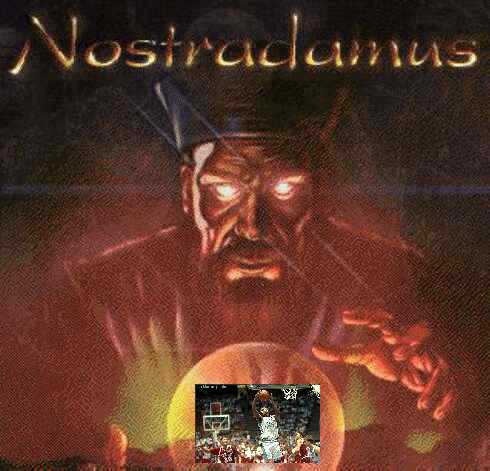 PRESENTS THE MARCH MADNESS CHALLENGE
STANDINGS AS OF 18 MARCH
| | |
| --- | --- |
| PROGNOSTICATOR | POINTS |
| TONNING 2 | 29 |
| JOHNNY U. 1 | 29 |
| NAPPER 1 | 29 |
| YANKEE MAN 2 | 29 |
| NAPPER 3 | 28 |
| ALBERT 1 | 28 |
| YANKEE MAN | 28 |
| DEADSKINS 2 | 28 |
| LAURA 2 | 28 |
| BRUTUS II | 27 |
| TONNING 1 | 27 |
| BRUTUS | 27 |
| ROADRUNNER 13 | 27 |
| NAPPER 4 | 27 |
| SUE | 27 |
| FULLCPURTPRESS | 27 |
| LAURA 1 | 27 |
| WRIGHT STUFF | 26 |
| ROADRUNNER | 26 |
| NOSTRADAMUS | 26 |
| NAPPER 2 | 26 |
| HOOP HOPES | 26 |
| DEADSKINS 1 | 26 |
| WRIGHT ONE | 25 |
| JOHNNY U. 2 | 25 |
| DENIS | 25 |
| NUTHINBUTNET | 25 |
| HALFCOURTSHOT | 24 |
| EDDY L. | 24 |
| THUMPED | 23 |
| MENDOZA LINE | 22 |
| THUMPER | 21 |
CINDERELLA LIBERTY???: I f you were looking for "cinderellas," a'la Thumper and Mendoza Line, the evil stepsisters had their day in the Midwest and West brackets. Only one 'dog, Gonazaga, won yesterday. My question is, How does an Elite 8 team from last year end up a #10 seed? For HALFCOURTSHOT, his choice of Louisville taking the west just wasn't "in the Cards." Lots of entrants survived day 1 with just one hit, but it is still anybodies tournament.
Check out what mushrooms your noble rivals are chewing upon as you look at everyones Regional Winners and National Champion Picks.
House Rules
You accrue points in the following manner:

Each correctly prognosticated first-round game is worth 1 point.
Each correctly prognosticated second-round game is worth 2 points.
Each correctly prognosticated regional-semifinal game is worth 4 points
Each correctly prognosticated regional final game is worth 8 points.
Each correctly prognosticated national semifinal game is worth 16 points.
Correctly prognosticating the NCAA Division 1 National Champion is worth 32 points.

If time and interest permits, I will post some other challenges (i.e. NCAA trivia, guess the winner of the Women's NCAA, etc.). The winner of these "challenges" will get tie-breaker points, in the event there is a deadlock at the end of the tournament.
Prize breakdown as follows:

Winner: 1/2 Share of the total pool collected (60 units).
Runner-up: 1/4 share of the total pool collected (30 units).
Third and Fourth place: 1/8 shares each of the total pool collected (15 units).
Official Final Four Web Site
Game-by-Game results for every Div 1 team (Do your homework!!!)
1999 Results (More homework!!!)
e-mail Nostradamus at: