CHARLIE MANUEL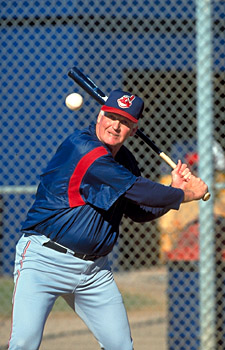 C

harlie Manuel may have failed to stay above the Mendoza line in his six-year stint with the Minnesota Twins and Los Angeles Dodgers. But for the past two decades, as one of the most successful minor league managers and Major League hitting instructors in the game, he has ensured many of today's players will stay far from it.

The son of a minister, Charlie Manuel was born in West Virginia, but moved to Buena Vista, VA, (near Roanoke) in his youth. The big red-headed country boy was a local hero after a distinguished high school career. Charlie Manuel lettered in baseball, football, basketball and track in high school. Not only did young Charlie captain the baseball and basketball teams; he was also an All-Star basketball selection three years, MVP in basketball twice and MVP in baseball once. The Minnesota Twins drafted him in 1963.

After a slow start, his minor league stock rose greatly after nearly winning the 1967 Midwest League Triple Crown. He led the league in BA with a .313 clip, tied for the lead in RBI with 70 and was runner-up in HR with 15. Buoyed by a strong 1968 with AA Charlotte, Chuck received an invite to the Twins spring training camp in 1969. Though he hadn't played AAA ball yet, Manuel literally forced Manager Billy Martin to find a spot for him on the roster after tearing up the Grapefruit League. Manuel was so confident of himself, during one exhibition game, he actually emulated Babe Ruth by pointing towards the outfield fences while at the plate, then summarily slugged the ball near the spot he pointed to. Several baseball pundits, such as Whitey Herzog, thought Chuck could average 20 HR and bat .300 in the Majors. He supposedly even beat the legendary Mickey Mantle in a home run derby exhibition.

Charlie Manuel's rookie year with the '69 Twins seemed auspicious enough. By July 20, the day astronaut Neil Armstrong made his historic moon walk, Manuel was making giant leaps himself; he had a respectable .266 average and a couple of home runs. Inexplicably, Chuck went 0-for-August and 0-for-September -- 36 at bats without a hit to finish with a .207 batting average. "I hope I don't have to wait for them to walk on the moon again to get another hit," Manuel was heard saying in frustration. The '69 Twins won the first-ever AL West title, but the Baltimore Orioles took them out in a 3-game sweep. Charlie Manuel drew a walk in his lone ALCS plate appearance that year.

With 50% or more of his lifetime runs scored, home runs and RBI accrued during his rookie season, his subsequent years in the Majors were quiet. Manuel played 59 games, 52 as a pinch-hitter, for the '70 Twins and hit .188. Making contact on the ball seemed to be his nemesis that year, as he whiffed once every 3.8 at-bats. His lone home run was memorable enough; both he and Bobby Allison hit pinch-hit homers in the same game. Though Minnesota repeated as AL West champions, they unfortunately incurred another sweep at the hands of the Orioles. In one pinch-hit appearance, Charlie Manuel struck out.

After spending the entire '73 season in the minors, the Twins traded Charlie Manuel to the Los Angeles Dodgers for outfielder Jim Fairey. In 1974, while with the Albuquerque Dukes of the PCL, Manuel crushed the ball to the tune of 30 homers, 102 RBI and a .329 batting average. That earned him brief stays with LA in 1974 and '75 as a pinch-hitter. With his four pinch-hit appearances for the Dodgers in 1974, Manuel could boast of playing for three division champions in his six-year career. Cashing out with a .198 batting average, he did not reach the potential in the Majors that people expected from him. On Manuel's behalf, a broken ankle did hamper his career.

After his release from the Dodgers, Charlie Manuel continued his playing career in Japan. Before going into his exploits there, it is appropriate to acquaint the reader on the fundamentals and nuances of Japanese baseball. While, it's not my intention to provide a thesis on this topic, here are ten things worth knowing:
The Japanese first played Yakyu (field ball) or the Anglicized beisuboru in the 1870s. Prior to that, with the exception of sumo, the concept of athletic competition did not exist in the isolated nation. The first professional league was born in 1936. Today, it is far and away the most popular sport in Japan.
There are two leagues, the Central League (CL) and the Pacific League (PL). Each league is comprised of 6 teams each. The majority of the Central League teams play in the Tokyo-Yokohama metropolitan area while the Pacific League is concentrated in the Osaka-Kobe-Kyoto center. Like our Major Leagues, the PL employs the designated hitter rule while the CL does not. Pennant winners from each league play in the Japan World Series in October.
Nearly all teams are corporate-owned. For example, the Yakult Swallows are not from the city of Yakult. They are from Tokyo and owned by the Yakult Corporation, a health food manufacturer. My favorite Japanese nickname is the Nippon Ham Fighters, owned by -- you guessed it -- a pork production company.
The Yomiuri (Tokyo) Giants are "Japan's Team." You need to combine the legacies of the New York Yankees, Green Bay Packers, Boston Celtics and Montreal Canadiens to get a flavor of how the country reveres this team. As former Japanese League ballplayer Dan Briggs puts it, "...the entire Japanese league structure exists primarily to provide competition for the Giants." For many years, the Giants refused to allow foreigners on their team, which endeared them with the more hard-line Japanese fans.
Japan's most famous player was Sadaharu Oh, who with 868 home runs has the most home runs of any professional baseball player. Oh's combination of samurai swordsmanship skills, stinging wrists and a batting eye compared to Ted Williams led to six Triple Crowns and nine MVPs. No Top-100 list of greatest baseball players should be without Sadaharu Oh. But even Oh lost some of his luster after an unsuccessful stint as manager of the Giants. At the time of writing he was managing the PL's Fukuoka Daiea Hawks.
The quality of Japanese professional players is best described this way: the A-List Japanese players are on a near-par with your best American players. But when you get down to the bench players, you are looking at Double-A caliber players. As an aggregate, most of the better Japanese teams would be competitive Triple-A teams. Fastball pitchers, like Hideo Nomo, are the exception and not the rule in Japanese ball. Most of the pitchers there give batters a steady diet of breaking stuff and junkballs -- the kind of stuff that good hitters feast upon.
The Japanese regular season lasts all of 130 games. So on Mr. Oh's behalf, quality of pitching aside, he hit all his home runs within the constraints of the 130 game season. Additionally, he received so many walks that he never had 500 at-bats in a single season.
The Japanese coaches employ training regimens more suitable for Navy SEALS than baseball players. Training camp starts as early as February and a typical day may entail as much as 12 hours on the field. Even during the season, pre-game warm-ups become so grueling that players begin dropping like flies by mid-season. The Japanese basically take Willie Stargell's favorite quote, "You play baseball, not work baseball," and do exactly the opposite. Managers and coaches tend to be strict martinets. As Charlie Manuel noted, "I've never experienced anything like it in all my years in baseball. The coaches even told me when to change my socks."
Ties are possible in Japanese baseball. Twenty-inning marathons are unheard of as games have an extra-inning limit and a time limit as well. In fact, with a culture so absorbed in not "losing face," ties are a quite desirable outcome, as neither team is humiliated. On the bad side, there have been a few instances of teams missing out on the playoffs as a result of reduced winning percentage points from ties.
While not totally excluded, participation by foreign players in the Japanese Major Leagues was quota controlled. Until recently, team rosters were restricted in signing no more than two foreign-born players. While every now and then you get a player in their prime like Bob Horner or Cecil Fielder, most of the American players in Japan are either fringe players or players on the wane as Major Leaguers. Still, the pressure on them to perform is immensely intense, for they make much more than a native player would. There are wonderful stories of American ballplayers cherished by the Japanese people; Leron and Leon Lee are the textbook examples. However, more often than not American ballplayers leave Japan after a year or two, either on the verge of a nervous breakdown or making it to the airplane just ahead of a lynch mob. Which brings us back to Charlie Manuel.
Manuel played his first three years with the Yakult (Tokyo) Swallows. Prior to Manuel's arrival, they were so pathetic that one could consider them Japan's version of the Washington Senators. Joining the team in 1976, he didn't do much his first year. This was due to injuries and the adjustments Americans must go through to cope with the Japanese strike zone, which seemingly grew larger for foreigners. The big man went wild at the plate a year later, clubbing 42 Homu rans with 97 RBI and a .316 batting average. This helped lowly Yakult reach second-place for the first time in franchise history. It took several years and thousands of miles, but at last, Manuel recorked the magic in his bat that seemed to have been lost since the glorious days of the '69 Grapefruit League.
By 1978, with his well-known reputation as both a carousing free spirit and a heavy-hitting outfielder, fans must have thought Charlie Manuel was the reincarnation of the Babe. Incredible tales circulated throughout Japan of Big Chuck living it up in Tokyo's notorious Ginza district. His escapades allegedly started early in the evening and concluded right up to the pre-game warm-ups for an afternoon game. Then he would proceed to hit a couple of home runs, while catching a few winks in the dugout while his team was at bat. That year, he again led the Swallows with 39 home runs and 103 RBI; he also owned a .312 batting average. Single-handedly, Charlie Manuel carried the long-suffering franchise to triumph with their first pennant and Japan Series Championship.
One would have thought the Yakult management would deify Manuel. However, a personality clash between Charlie and manager Tatsuro Hirooka caused tension between the two. Hirooka, a harsh disciplinarian, was known as the "Iron Shogun." Despite literally carrying the team on his back, Hirooka rode Chuck Manuel hard over everything from his fondness for fast food to failing to shine his baseball spikes. It was enough to make Manuel angrily retort, "I'm 34 years old and I figure I'm old enough to decide what to eat and whether or not I should shine my shoes for a baseball game."
More often than not, half-Italian/half Japanese team translator, Luigi Nakajima, was the killed messenger in the war between Manuel and his despotic manager. Manuel even nicknamed Luigi the "Sandwich Man" for always being in the middle of these frays. When Hirooka, through Nakajima, ordered Charlie to run ten additional wind sprints, Manuel's reply to Nakajima was an emphatic, "F--- you, I ain't." This left Nakajima a real quandary in trying to relay that message back to Hirooka. Once, when Nakajima chastised Manuel about arriving to practice late, the big man lifted Nakajima up by his lapels and asked him to repeat what he said.
What really got the Yakult coaches in an uproar was when the bucolic Charlie Manuel would greet them by their first name. One coach in particular, Kanji Maruyama, would focus his rage on Nakajima each time Manuel greeted him with, "Hi Kanji," in his deep Southern drawl. He was insistent that Manuel was deliberately undermining his authority. No matter how emphatically Luigi would implore Charlie Manuel to properly address his superiors, Manuel would not relent. Eventually, Maruyama gave up on making this a federal case and became good friends with Manuel.
After Hirooka pulled Charlie out of a nationally televised game for dropping a fly ball, the long and smoldering feud between Manuel and his manager reached critical mass. Manuel rage was palpable after Hirooka muttered something at him while returning to the dugout. Though said in the native tongue, the intonation seemed universal enough to Charlie. He collared Luigi Nakajima, demanding to know what the manager had said to him. Coaches and teammates intervened in time to prevent the resumption of World War II. Under the pretense of "quality control measures," the Yakult front office unceremoniously shipped the slugger to the Kintetsu (Osaka) Buffaloes in 1979.
In his two years with Kintetsu, Chuck Manuel would earn even greater fame in Japan. Since Kintetsu played in the Japanese Pacific League vice the Central League, which Yakult was in, he had the benefit of playing under the designated hitter rule. For the first two months of the 1979 season, he was Mark McGwire, crushing 24 home runs and leading perennial also-ran Kintetsu into first place. Japanese sportswriters dubbed him Akaoni, which translates as "The Red Devil." Then disaster struck Manuel in the form of a 90-mph fastball from one Soroku Yagisawa. The errant pitch, which may or may not have been a deliberate beaning, literally destroyed Manuel's face. He suffered a broken jaw and nose, as well as losing ten teeth.
This is Charlie Manuel's account of the incident:
"I stand way away from the plate. I'm tall and I stand erect in the batter's box. The ball didn't slip. Yagisawa is a veteran pitcher and his control is too good. When he hit me in the jaw, he didn't come off the mound. I couldn't breathe and he just turned away and started playing catch with one of the infielders like it was no big thing. When I left the field, I turned and pointed to him and said, "I'll get you." He just grinned at me and tipped his cap.

"The Japanese don't throw at each other that much. But they watch U.S. baseball on TV and they see beanballs and they think it's the American way, that it's okay to throw at a gaijin. What they don't understand is that it is part of our code of behavior for the batter to retaliate."
The Japanese press, flagrantly disdainful in their bias against foreign ballplayers,
dismissed the beaning as "an unfortunate accident" which warranted little more than a small byline in the back pages. However, Japanese sportswriter Morse Saito was so disgusted with the press as he was with Yagisawa's brutal and craven act, that he wrote the following scathing, "J'accuse" type piece:
BUSH LEAGUE

Japanese baseball has proven itself bush. It is by no means major league....

Charles Manuel was hit in the face by one of Japan's leading control pitchers. The brushback pitch is a part of a pitcher's livelihood. But to the head? Manuel was rushed to the hospital and underwent a five-hour major operation. This was major league treatment.

The NHK [Japan's version of CNN] sportscaster spread much light when he excused the pitcher Soruko Yagisawa by almost partly blaming Manuel because he had been hit once in the teeth in America [veteran Major Leaguer Jerry Reuss hit him back in 1967] by a pitched ball. Furthermore, the NHK sportscaster never mentioned the Japanese pitcher. After all, the local product must be protected from foreigners.

Earlier, Manuel was about to break Japanese baseball history by hitting 16 homers in one month. Since it would be a disgrace for a foreigner to hold this record, Manuel was constantly walked. That is baseball. However, such walks are part of the game only if it is to prevent your side from losing. In Manuel's case, they walked him partly because he was a foreigner. That is bush.

No pitcher would dare throw at a top Japanese batter's head. Try it on Oh or Kakefu and half the stands would soon be on the mound, pounding the pitcher. Foreigners? They are different. They are tough.

Japanese baseball limits each club to two foreign players. This quota will forever assure that the local product will never be major league. It is typical of protectionist thinking: keep out the imports and nurture the locals. The goal is not to present the best baseball possible. It is, first of all, to protect the weaker and inferior Japanese. Personally, I know many Japanese ballplayers who could make it anywhere in the world. The protectionists suffer from an inferiority complex.

This complex is what leads to the racist attempts to justify throwing at Charles Manuel's face. The psychologically more mature Japanese are shocked and regret that pitch. There is no justification for it.

The pitch at Manuel was a bush thing. It almost ranks with the ugliness of honorary white status given Japanese businessmen in South Africa.
Despite literally eating his food with a straw, Charlie Manuel returned to the Kintetsu lineup by early August. He finished the season with 37 home runs to pace the Pacific League and led the Buffaloes to the league Pennant. The Japanese sportswriters, impressed by Manuel's Samurai spirit and partly out of guilt over their treatment of him after his beaning, selected him as Pacific League MVP. He was the first foreigner to collect the honor since 1964 and the first American MVP ever.
Healthy for the entire 1980 campaign, Charles Manuel nearly won the Triple Crown, leading the league with 48 home runs (setting a then-record for most home runs by an American player) and 129 RBI. Again he was the mainstay in leading the Buffaloes to a second Pacific League Pennant. In both years, Kintetsu lost the Japan Series to the Hiroshima Carp, 4-games-to-3. But all was not well with the Buffaloes and Manuel.
Once again, Japanese sensitivities worked against Charlie. Despite his extraordinary 1980 season, he actually lost favor with management, writers and fans after leaving the team in mid-season to attend his son's high school graduation back in the States. Though he carried his the team to another Pennant, they accused him of deserting the team while they were in a tight race for the first half title -- which they eventually lost. When contract negotiations soured, Charlie Manuel saw another team release him while at the top of his game.
Manuel returned to the Swallows in 1981 for one final season. The coast now clear after the departure of manager and adversary Hirooka. Now in his late thirties, the sun was setting on Chuck Manuel's career in the Land of the Rising Sun. In his final year as a professional player, Chuck's lofty home run totals declined to just 12.
During his six seasons in the Japanese Major League, Manuel's career totals are immense. He compiled a career .303 batting average with 189 home runs and 491 RBI. Thrice, he was a "Best Nine" (Japan's equivalent of our end-of-season All-Star Team).
He returned to America in 1982, taking a job as a scout for the Minnesota Twins. Though he went from a $250K a year player in Japan to making just $20,000 as a bird-dog, Manuel candidly stated, "You know what, there's a lot less problems at $20,000!"
Thus launched a new dimension in Charlie Manuel's baseball career. Manuel became a hitting guru. With the Twins' organization, he managed at every tier of their farm system and developed many of the players that won Minnesota two World Championships in 1987 and 1991.
Charlie took a position with the Cleveland Indians as their batting instructor, a position he held during the 1988 and '89 seasons. Next, Manuel managed the Colorado Springs Sky Sox from 1990-92, compiling a 192-157 record and three consecutive playoff appearances, culminating with the Sky Sox' first Pacific Coast League Championship in 1992. Charlie earned 1992 PCL Manager of the Year honors and was later inducted into the Sky Sox Hall of Fame. His colorful style of leadership and exciting brand of big inning offense, known as "Charlie Ball," enamoured him with the Sky Sox' faithful fans. His famous exhortation to his players in a tight game was, "Go to the mountain, son." Quite apropos with Pikes Peak looming in the Colorado Springs background.
After the Colorado Rockies took over the Colorado Springs franchise, the Indians moved their AAA team to Charlotte in 1993. Charlie Manuel led the Charlotte Knights to an International League crown and managed the IL All-Star Team.
Following the 1993 season, he returned to Cleveland and has been their hitting instructor ever since. Though not the household name amongst hitting experts, one usually thinks of Charlie Lau or Walt Hriniak, the Indians have gone from a poor hitting team to one that is consistently near the top in all team batting categories. Just ask Jim Thome, the Tribe's most consistent hitter during their recent glory days. He credits much of his success to Charlie Manuel, who has mentored Thome since his earliest days in professional baseball. In fact, when you look at all the great players in the present-day Cleveland lineup, such as Kenny Lofton, Manny Ramirez and Thome, all have one thing in common: they were Charlie Manuel trained men. The multi-talented Manuel also served as one of the Indians' batting practice pitchers until injuries curtailed him. He even developed a decent knuckleball in an attempt to prepare the team for Red Sox flutterballer Tim Wakefield.
In the summer of 1998, the Indians were in cruise control for their fourth consecutive AL Central title. However, while the team was soaring, Charlie Manuel was having problems. His weight climbed to almost 260 lbs. Then, in the matter of weeks, he lost 40 pounds and complained of fatigue. While golfing just before the 1998 All-Star break, Manuel suffered a mild heart attack, his second within the decade. Further testing revealed Chuck was in dire straits, four of his coronary arteries were 90-100% blocked. He required a quadruple coronary bypass, a demanding and risky surgery. In short, Charlie Manuel was at bat with Death pitching, the count 1-and-2.
While in the hospital, prior to the operation, Charlie Manuel stayed focused on the essence of his entire adult life: baseball. In between prods and pokes by doctors and nurses, Manuel had several calls and visitors. Jim Thome even came in for some hitting advice from Manuel. It must have been good advice, since Thome homered and tripled to beat the Yankees the following day. Terry Pluto, Akron Beacon-Journal columnist writes:
"He thought about baseball. He thought about the many players, coaches and baseball people that called. He thought of the call from Eddie Murray that surprised and delighted him. He thought of the note from Manny Ramirez that brought tears. He thought about what it meant for him to be in the batting cage, talking hitting with Jim Thome or anyone else with a bat in his hands and an ear willing to listen. The night before his quadruple by-pass, Charlie Manuel thought of everything for which to give thanks. 'But I didn't think about dying,' he said. 'I just didn't believe it was my time. Now, I won't kid you. I was scared. But I just knew deep inside, it would be all right."
Not only did Charlie Manuel undergo successful surgery, he astounded doctors by donning an Indians' uniform and working the dugout just five weeks after surgery. Remember, a bypass entails sawing a patient's chest cavity open and removing major veins out of one's leg. Recovery times are normally measured in months, not weeks.
With another wire-to-wire AL Central title in 1999, the Indians' bats are again the best in all the land. Will this be their year after a half-century and change wait? Charlie has done about everything a hitting coach can do. One would think he has earned a shot as a Major League manager.
Had the breaks gone right for Charlie Manuel, instead of the breaks he received to his face and ankle, perhaps he would have had some of the success in the Major Leagues that he had in Japan. It seems incredible that a man, who could hit 4 home runs over a span of two games in Japan, could only manage 4 home runs in six years in the Majors. Still, not too many players can lay claim to each jewel of the Triple Crown during their professional careers as Charlie has. The final word on this fantastic career is that if you count up all his years in professional baseball, Manuel has been a part of sixteen playoff-bound teams. Yes, Charlie Manuel is quite the baseball man.
Full Name: Charles Fuqua Manuel
Bats: Left Throws: Right
Height: 6'4"
Weight: 200 lbs.
Born: Jan 4, 1944 in Northfork, WV
Major League Debut: Apr 8, 1969
CAREER BATTING
YR

CLUB

G

AB

R

H

2B

3B

HR

RBI

SB

BB

K

BA

SA

1969
1970
1971
1972
1974
1975

MIN
MIN
MIN
MIN
LA
LA

83
59
18
63
4
15

164
64
16
122
3
15

14
4
1
6
0
0

34
12
2
25
1
2

6
0
1
5
0
0

0
0
0
0
0
0

2
1
0
1
0
0

24
7
1
8
1
2

1
0
0
0
0
0

28
6
1
4
1
0

33
17
8
16
0
3

.207
.188
.125
.205
.333
.133

.280
.234
.188
.270
.333
.133

Maj. Lg. Totals

242

384

25

76

12

0

4

43

1

40

77

.198

.260
CAREER FIELDING
YEAR

TM/LG

G

PO

A

E

DP

FA

FR

1969

MIN

46

57

2

2

0

.967

-6

1970

MIN

11

7

0

0

0

1.000

-3

1971

MIN

1

0

0

0

0

N/A

0

1972

MIN

28

39

4

1

0

.977

-1

TOTALS

86

103

6

3

0

.973

-10
e-mail "The Author" at: